A two-month-old, previously healthy male infant was admitted to the pediatric Emergency Department with nausea, vomiting, constipation, and refusal to feed for two days. In the neonatal period, meconium passage with stimulation occurred at 18 hours of life. On admission, the infant had an important abdominal distension, bowel sounds, and painless abdominal palpation, with no palpable masses. Abdominal radiograph revealed exuberant bowel distension (Figure 1), with slight improvement after rectal decompression and exit of thick stools without blood or mucus. Contrast enema showed a recto-sigmoid transition zone with caliber inversion between the rectum and sigmoid (Figure 2).
What is your diagnosis?
Diagnosis
Hirschsprung disease
Patient orientation
Contrast enema showed a recto-sigmoid transition zone (anatomical transition between the narrow distal aganglionic segment and the dilated proximal ganglionic segment), a pathognomonic finding of Hirschsprung disease (Figure 2). At seven months of age, extemporaneous histochemical analysis of sequential colonic biopsies revealed absence of ganglion cells in the sigmoid, compatible with Hirschsprung disease, and Swenson's pull-through was performed (Figure 3).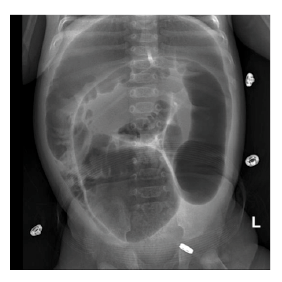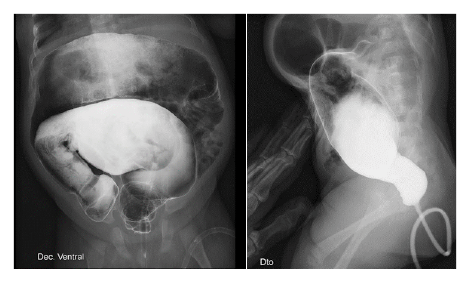 Discussion
Hirschsprung disease is the most common congenital gut motility disorder, with a reported incidence of approximately one in every 5,000 live births and male preponderance (4:1).1-3 It is caused by failure of neural crest cell migration during intestinal development in fetal life or failure of neural crest cells to differentiate into mature ganglion cells, resulting in an aganglionic bowel segment that leads to absent intestinal peristalsis and functional obstruction upstream of the aganglionic zone.1-5 Rectum and sigmoid colon are the most affected segments.1-5 Diagnosis is suggested by meconium passage delay or history of constipation that does not respond to conventional treatment.1-5 Imaging exams, namely radiography and contrast enema, are important tools for early diagnosis.1-4 The definitive diagnosis is established through histochemical analysis of aganglionic segment biopsy showing absence of ganglion cells in the submucosal and myenteric plexus and, in most patients, hypertrophied nerve trunks.1
Hirschsprung disease treatment is surgical and involves resection of the aganglionic segment of the colon and reconstruction of the intestinal tract by bringing down the normal ganglionic bowel to the anus.2-5
Early recognition of this entity is important to avoid complications, such as Hirschsprung-associated enterocolitis, a potentially fatal pathology.1-5
Lessons from this clinical case
Hirchsprung disease is a congenital disorder that most commonly presents in the neonatal period as intestinal obstruction.
Diagnosis should be considered in all neonates or children with constipation that does not respond to conventional treatment.
Imaging exams are important tools for early diagnosis.
Early diagnosis decreases complications, improves prognosis, and positively impacts patients' quality of life.