Services on Demand
Journal
Article
Indicators
Related links
Similars in SciELO
Share
---
Print version ISSN 1646-5830
Acta Obstet Ginecol Port vol.12 no.4 Coimbra Dec. 2018
ISSUE IMAGE/IMAGEM DO TRIMESTRE
Caesarean scar pregnancy diagnosis
Diagnóstico de gravidez ectópica em cicatriz de cesariana
Inês Alencoão*, Susana Carvalho**, Alexandre Morgado***
Centro Materno Infantil do Norte - Centro Hospitalar Universitário do Porto
*Interna de Formação Específica de Ginecologia e Obstetrícia, Centro Materno Infantil do Norte - Centro Hospitalar Universitário do Porto
**Assistente Hospitalar de Ginecologia e Obstetrícia, Centro Materno Infantil do Norte - Centro Hospitalar Universitário do Porto
***Assistente Hospitalar Graduado de Ginecologia e Obstetrícia, Diretor do Serviço de Ginecologia, Centro Materno Infantil do Norte - Centro Hospitalar Universitário do Porto
Endereço para correspondência | Dirección para correspondencia | Correspondence
---
ABSTRACT
The authors present a clinical case of a young healthy woman with a caesarean scar pregnancy, emphasizing the relevance of an early ultrasound diagnosis.
Keywords: Ectopic pregancy; Caesarean section; Pregnancy complications; Ultrasonography.
---
A33-year-old healthy woman presented to our emergency department with pelvic discomfort and six weeks of amenorrhea. She had a caesarean delivery ten years earlier and an early pregnancy loss with need to perform curettage six months before. She had no vaginal bleeding and an unremarkable clinical exam. The vaginal ultrasound revealed an enlarged uterus, a fundic endometrial thickening and a hypoechoic structure with 6 mm of diameter at an isthmic level overlying the caesarean scar compatible with a gestational sac, and normal adnexa (Figure 1). The 3D view confirmed the presence of a gestational sac with a yolk sac and an embryonic pole at an isthmic level (Figure 2).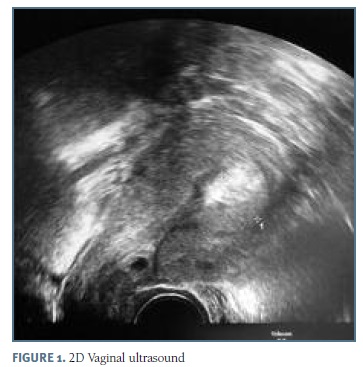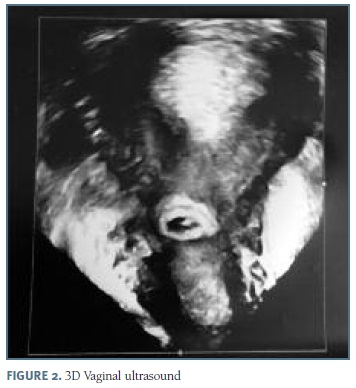 Caesarean scar pregnancy is a rare iatrogenic entity and defines itself as an implantation of a gestational sac into a deficient lower uterine segment caesarean section scar. Its estimated incidence is about one in each 2000 pregnancies and represents about 6% of ectopic pregnancies in women with a previous caesarean section1,2. The increasing number of reported cases seems to reflect the overall amount of caesarean
sections but also the improved diagnostic capacity and higher index of suspicion2. The clinical presentation may vary widely from asymptomatic to catastrophic bleeding1. The best diagnostic tool is the vaginal ultrasound, which can show an empty uterine cavity, a gestational sac located in the isthmic anterior uterine wall overlying the caesarean scar, a thin myometrium between the sac and the bladder, Doppler evidence of prominent vascularization and an empty cervical canal. An early and prompt ultrasound diagnosis is critical for a good outcome3-5.
REFERENCES
1. Elson CJ, Salim R, Potdar N, Chetty M, Ross JA, Kirk EJ on behalf of the Royal College of Obstetricians and Gynaecologists. Diagnosis and management of ectopic pregnancy. BJOG 2016;123: e15-e55. [ Links ]
2. Rotas MA, Haberman S, Levgur M. Cesarean scar ectopic pregnancies: etiology, diagnosis, and management. Obstet Gynecol 2006;107:1373. [ Links ]
3. Timor-Tritsch IE, Monteagudo A. Unforeseen consequences of the increasing rate of cesarean deliveries: early placenta accreta and cesarean scar pregnancy: a review. Am J Obstet Gynecol 2012; 207(1):14-29. [ Links ]
4. Timor-Tritsch IE, Monteagudo A, Cali G, El Refaey H, Kaelin Agten A, Arslan AA. Easy sonographic differential diagnosis between intrauterine pregnancy and cesarean delivery scar pregnancy in the early first trimester. Am J Obstet Gynecol 2016;215(2): 225.e1-7.
5. Gilmandyar D. Ultrasonography for cesarean scar ectopics. Ultrasound Clin 2013;8:27-30. [ Links ]
Endereço para correspondência | Dirección para correspondencia | Correspondence
Inês Alencoão, Centro Materno Infantil do Norte - Centro Hospitalar do Porto , Porto, Portugal
E-mail: inesalencoao@gmail.com
Recebido em: 09/12/2017
Aceite para publicação: 04/05/2018